The Age of Legends
Warforged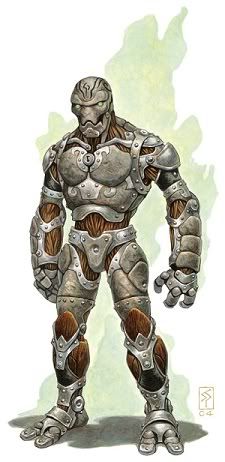 Warforged
"I live to serve"
Few beings in the world of Myth'ren are as curious, and as rare, as the Warforged. Not created by a God, but by the hands of mortals, Warforged are living constructs, in-souled through an ancient mystical process.

The origin of the Warforged changes depending on whom you speak to. The Dwarves will tell you that the constructs were of their devising. The expert craftsmanship it takes to create one is proof of this claim, but the Elves insist that it is through their magic the warforged were enchanted and were able to move, speak, and think. It is obvious the Warforged are a marriage of Dwarven design and Elven high-magic, but what neither race can lay claim to is how these beings developed souls, which has been chalked up to a freak accident.

The original purpose of these sentient constructs can easily be found in their namesake. The Warforged were forged for war. It is uncertain for what conflict they were first implemented, but it is universally accepted that the situation was dire. To create that kind of life is considered a last resort for good-natured races. The making of a life to die for one's cause is done in truly desperate times.

The Warforged are an exceptionally loyal race, almost to a flaw. So foreign to them is the concept of their own free will that they often follow the orders of others without question. They are very naive and susceptible to the influences around them. Only those who have truly discovered their personality and have nurtured it are safe from being preyed upon by those who would abuse the warforged's loyalty for their own nefarious ends.

The 'skin' of a Warforged is as varied and different as that of any other race. Iron, blue steel, mithril, adamantine, and obsidian are only a few of the materials used in their construction. Light and dark wood holds everything together like muscle, magically treated to maximize felxability. Their eyes posses a dim glow, taking on the color of them gems placed within their sockets, be it rubys, sapphires, or yellow spinals.