The Age of Legends
Orcs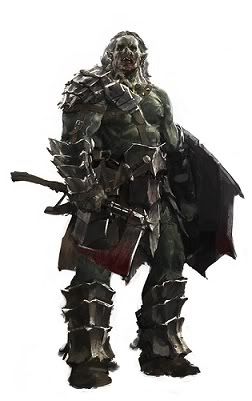 Orcs
"The only honor is in strength"
The word Orc places fear in the hearts of most beings in Myth'ren, for there are few creatures in the world with the strength, the numbers, and the ferocity to withstand a rampaging horde of orcs, and it is all too easy to become their enemies. With no homeland to call their won, they wander the world, leaving devastation in their wake. However, those fearsome tribes that destroy and pillage are only one part of a religious divide amongst the race.

The orcs revere the God, Gorefang, as their creator. It his through his actions and his will that the race survives, but what most cannot seem to agree on is what "survival" really means. Many believe that the only true way to survive is to wipe out every enemy of orckind, which would leave only orcs in the end. These are the orcs most civilized races fear, and with good reason.

Another view is that to survive the orcs must become one with the world around them. It is through this mentality that many orc druids have arisen, acting as shamans in peaceful tribes that try to coexist with nature. The stigma of their brutal kin, however, makes it almost impossible for these peaceful orcs to live anywhere near civilization, and so they have been pushed back to the darkest, harshest corners of the globe.

There is tell of one young orc warrior near the midlands who is amassing quite a following. Dozens of orcs a day arrive at an ever growing tent city near Artinia, where the warrior explains that the only way the orcs will survive is if they all band together and forge their own homeland. His actions have made the King and people of Artinia extremely nervous.

Orc skin varies in color. Black, green, gray, and brown are the most common, but there have been sightings of tan and white orcs near the deserts of Osiron and the ice caps of Odara respectively.