The Age of Legends
Elves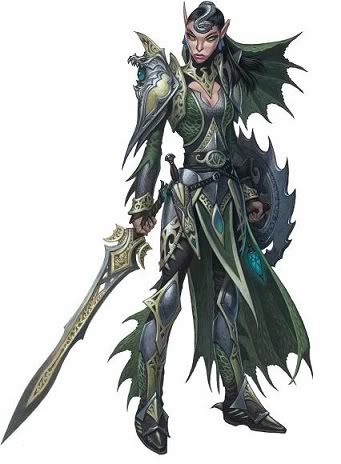 Elves
"Do not attempt to remove the arrow. You will only injure yourself further. As for going for your blade, I would advise against it. Though I may want you alive to question your interloping in our woods, my twelve kinsmen back yonder in the brush are not nearly as merciful as I. You do not see them? You wouldn't"
Born of nature and suffused by magic, the elves of Myth'ren are the epitome of grace, charm, and mystery, though it is not wise to confuse the intellectual High Elves with their forest dwelling kin.

With one of the oldest societies in the world, the creations of Aritahl stand as bastions of knowledge, and as mysterious historians of eons long past. Their attention to art, lasting architecture, and their perfect cohabitation with the world around them has seen the longevity of the elves preserved. They lead peaceful lives, seeking no violence of any kind, unless left with no other option. When war falls upon the elven nations, however, there is scarcely a deadlier, and more brutally efficient enemy in all the world.

During their long history, a great divide occurred among the elves. One faction believed that it was the purpose of elvenkind to study the mysteries of arcane magic, and master it. Another believed that the study of the great arcana was unnatural, and that the true purpose of the fairfolk was to tend to the forests, acting as warden's for the wild reaches. And thus the Wood Elves and High Elves went their separate ways, each attaining their own greatness.

What elves lack in brute strength, they make up for in agility and grace. Their skin ranges from light tan, to tones of copper and pearl white. The hair of the Wood Elves often takes on the colors of autumn leaves, whereas the High Elves appear as strands of the most precious of metals.